PRTG 9 Manual: TWO—Auto-Discover Your Network
Click on the Home button in main menu. The welcome screen is shown.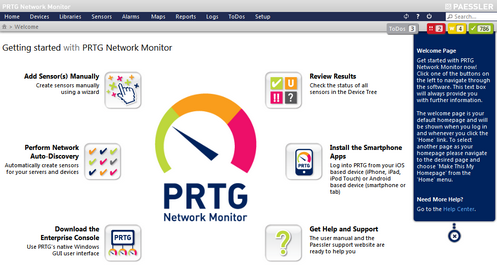 Welcome Screen
Click on Network Auto-Discovery to automatically scan in your network. PRTG will try to detect all attached devices automatically in just two steps. For video instructions, please see the More section below.
Auto-Discovery—Step 1
In the first step, the tree with all probes and groups of your setup is shown.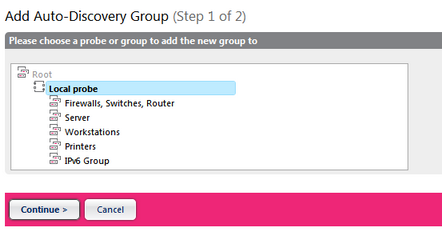 Add Auto-Discovery Group Assistent Step 1
Choose

Local probe

from the device tree.
Click the

Continue

button.
Auto-Discovery—Step 2
In the second step, some additional information about your network is required.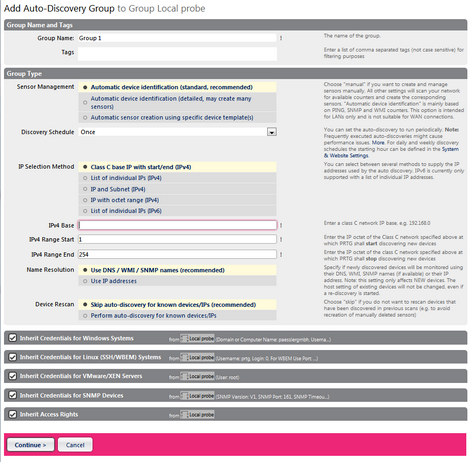 Add Auto-Discovery Group Assistant Step 2
With the

IP Selection Method

, choose whether you want to enter a

Class C base IP with start/end (IPv4)

, a

List of individual IPs (IPv4)

,

IP and Subnet (IPv4)

, or an

IP with octet range (IPv4)

. If you want to discover an IPv6 network, you can provide a list using the

List of individual IPs (IPv6)

option. All of these methods result in a number of IP addresses that will be scanned during the auto-discovery process. Based on your selection above, different setting fields are available.
We recommend you leave the

Class C base IP

option. In the

IPv4 Base

field, enter the first three octets of your network's IP range, for example

192.168.0

or

10.0.0

, or whatever IP address range you use. If you don't change the values for

IPv4 Range Start

and

End

, PRTG will automatically complete the IP base and scan all IP addresses ending in

.1

to

.254

.
If available, provide credentials for

Windows Systems

,

Linux Systems

,

VMware/XEN Servers

, and for

SNMP Devices

. You can show the respective settings by removing the check mark symbol at the beginning of the respective line. Find more information in the Auto-Discovery section.
Keep the default values for all other settings.
Click the

Continue

button.
Ready
PRTG will now start discovering your network in the background, adding devices and sensors automatically. Meanwhile, you can get familiar with the Ajax web interface.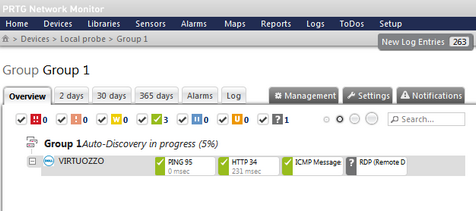 Auto-Discovery in Progress
The first steps are taken. Usually, the auto-discovery function has already detected most of the devices in your network. There are also sensors on the local Probe Device, monitoring the computer PRTG is installed on. In the welcome screen, click on Review Results to view the device tree with all devices.
As next step, we recommend going through the following sections:
Video Tutorial: There is a video available on the Paessler video tutorials page.
Keywords: Auto-Discovery,Auto-Discovery Quick Start