PRTG 9 Manual: Smartphone Apps
There are apps for the iPhone and for Android devices, with which you can connect to your PRTG installation while on the go. Use them as an alternative to the HTML GUI interface.
iPRTG is the iApp for PRTG Network Monitor. Use it on the iPhone, iPad, and iPod Touch.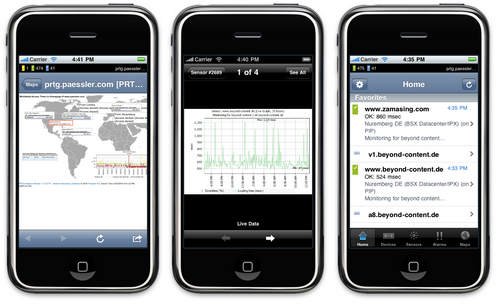 iPRTG Screenshots
Don't let monitoring your network tie you to your desk! With iPRTG your network monitor is where your iPhone is. iPRTG is the iOS App for network administrators using the PRTG Network Monitor software to monitor and administrate their network. iPRTG is a clear and simple viewer for the entire network monitoring environment. Your iOS device requests the monitoring data directly from your PRTG server and displays it in an 'iPhonic' way.
In order to use iPRTG, your core server must be reachable from the internet. You can view monitoring data and perform certain actions, such as acknowledge alarms, pause or resume monitoring, etc.
PRTGdroid is the Android app for PRTG Network Monitor. Use it on your phone or tab.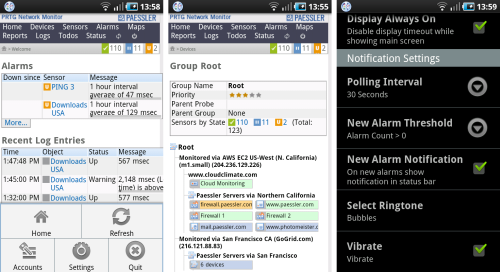 PRTGdroid Screenshots
The features include:
Multiple accounts support to query different server/login combinations. Switch easily between different accounts to quickly view monitoring data of several installations and/or accounts.

The app can check all accounts, or only specific ones, automatically in the configured polling interval and notify you in your device's status bar whenever there are alarms for one of them.

Configure when you want to be notified: Alarms > 0 or when alarms count raised since last check. Configure notifications via the system status bar with ringtone and/or vibration (triggered for new notifications).
In order to use PRTGdroid, your core server must be reachable from the internet. The app embeds PRTG's HTML GUI (Low bandwidth) interface to display monitoring data. All features of this browser interface are available: You can acknowledge alarms, pause and resume sensors, view geo maps, change the zoom factor, etc.
More information and a video about iPRTG
More information about PRTGdroid
Keywords: iPhone App,iPhone App iPRTG,Android App,Android App PRTGdroid,Smart Phone Apps,Smart Phone Apps PRTGdroid,Smart Phone Apps iPRTG