PRTG 9 Manual: Review Monitoring Data
Pages of probes, groups, device, and sensors have a tab-like interface. Using the tabs you can navigate through various sub-pages of an object in order to show your network's status, view monitoring results, or change settings.

Tabs Bar on Sensor Pages
The Overview tab shows an overview of the currently selected object and of its sensors. The pages share a common layout, but include different elements, depending on the kind of object you're looking at:
For

probes

and

groups

, the

Overview

tab shows a tree with devices and sensors, as well as summary graphs for different time spans of the current probe or group.

For

devices

, the

Overview

tab shows device details and summary graphs for different time spans, as well as a list of all sensors on this device.

For

sensors

, the

Overview

tab shows sensor details, current status, and the last value of all sensor channels, as well as sensor graphs for different time spans.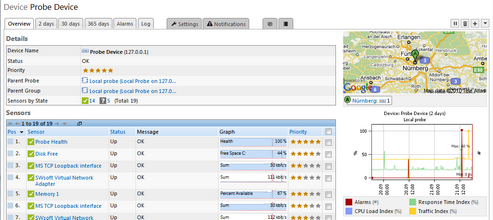 Device Overview Tab for Probe Device with Overview, Sensor Table, GeoMap, and Mini Graphs
Select one of the tabs Live Data (available for sensors only), 2 days, 30 days, or 365 days to display an object's monitoring data live (sensors only), or for different time spans and in more or less detail. Note: The days mentioned here are the default setting. You can change the detail of the different graphs any time in the PRTG System Administrator program. See section PRTG Server Administrator (Memory Usage) for more details.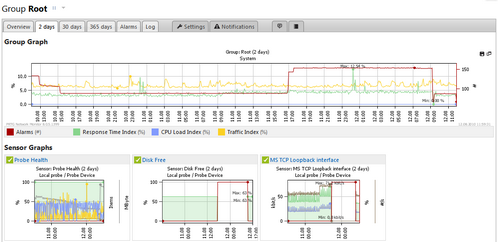 Group 2 Days Tab for Root Group with Group Graph and Sensor Mini Graphs
For probes, groups, and devices, each of the tabs shows a summary graph for the current object and mini graphs (2 days) for all sensors on this object, as well as a data table for the current object. There are never more than 50 mini graphs displayed for performance reasons.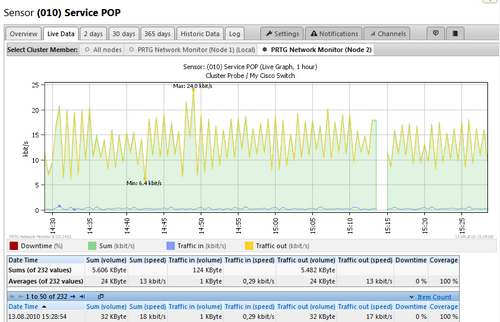 Sensor Live Data Tab for a Traffic Sensor With Cluster Member Selection Bar
For sensors, the tabs show a graph and data table of the selected sensor. When viewing data of a sensor running on a cluster probe, you can additionally select if you want to show the data of all nodes, or of one specific node only. Please use the Select Cluster Member bar below the tabs. Note: Multi-node graphs are never displayed filled here, but with single lines only. However, historic data reports can have filled multi-node graphs.
Next to every graph, you will find two small icons. Using them, you can do the following:
Download the graph

: This will show a PNG file of the graph in a new browser window. You can then save or copy it for later use.

Zoom graph in new window

: This will open a larger version of the graph in a new browser window.



The Toplists tab is available for xFlow and Packet Sniffer sensors only. Please see section Toplists.
The Historic Data tab is available for sensors only. Please see section Historic Data Reports.
Viewing lists of sensors is a great way to keep an eye on your network's status, as you can select which kind of sensors you would like to see. There are many different sensor list views available, such as a list of favorite sensors and top 10 lists; lists filtered by current sensor status, value, availability, tag, or type; there is a sensor cross reference, and many more.
Sensor lists are available from the main menu. Click the Sensors entry to show a table list of all sensors. In the table list appearing, you can re-sort the items by clicking on the column's header items. Hover to show other menu options. For detailed information about the available options, please see Main Menu Structure (Sensors) section.
The Alarms tab is not available for sensors, but for probes, groups, and devices only. Please see section Alarms.
Please see section Logs.
Ajax Web Interface—Basic Procedures—Topics
Other Ajax Web Interface Sections
Related Topics
Keywords: Overview tab,Live Data tab,2 days tab,30 days tab,365 days tab