PRTG 9 Manual: Context Menus
On right-click, there are different context menus available.
While in the Overview or the Management tab, right-click on any library node to show its context menu.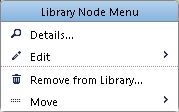 Library Node Menu

Library Node Menu: Edit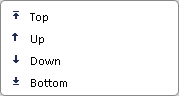 Library Node Menu: Move
Select either

Details

or

Edit | Settings...

to get to the Libraries and Node Settings.

Note:

While in the

Overview

tab, these settings are also accessible via left-click on the node's name.

Edit | Rename...

will give you an option to rename the library node quickly.

Remove from Library...

will remove this library node from the current library.

Note:

This will not delete any objects in your device tree.
The

Move | ...

options will move the library node up and down within the library.

In libraries there are the same Context Menus available you already know from the device tree. With one exception: While accessing these menus within libraries, the Move and Delete options are disabled to avoid accidental changes to your device tree.
Keywords: Libraries,Libraries Context Menus