PRTG 9 Manual: Add a Sensor
Note: This documentation refers to the PRTG System Administrator user accessing the Ajax interface on a master node. For other user accounts, interfaces, or nodes, not all of the options might be available as described. When using a cluster installation, failover nodes are read-only by default.
There are different ways to manually add a sensor to an existing device.
On the welcome screen, click on the

Add Sensors Manually

option

or select

Sensors | Add Sensor

from the main menu.
An assistant will appear, leading you through two steps. For faster setup, you can select Add Sensor... in the context menu of a device to which you want to add the new sensor. This will skip step 1 and lead you directly to step 2.
Step 1


Please select

Add sensor to an existing device

and choose a device you want to add the new sensor to. Click on

Continue

.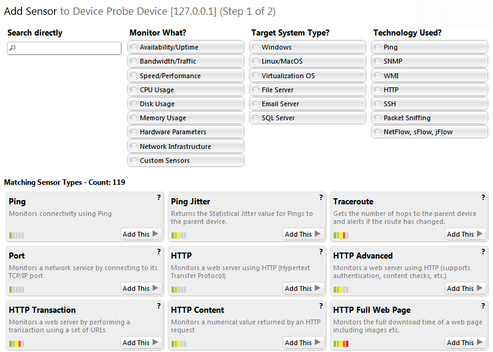 Add Sensor Assistant
Step 2


The Add sensor assistant is shown (see screenshot above). Select a sensor you want to add and enter the needed settings. For more information, please see the manual section of the respective sensor. See List of Available Sensor Types section to find detailed information about every sensor.
Ajax Web Interface—Device and Sensor Setup—Topics
Other Ajax Web Interface Sections
Related Topics
Keywords: Sensor,Sensor add,Add,Add Sensor